Golfing in the Desert: Phoenix, Arizona
When you think of the Arizonian desert, manicured greens and lush, rolling fairways are probably the last things you would envision. In fact, the uninitiated might be tempted to overlook the Southwest as a golfing destination altogether.
That would be a huge mistake! The Southwestern U.S. is chock full of incredible courses, Arizona and Phoenix in particular.
So if you're planning on visiting the area – on business, pleasure, or otherwise – do yourself a favor and get in a few rounds on Phoenix's best. We've picked a few local favorites in three categories: High-end premier courses, still-fantastic courses with affordable rates, and short, executive or par-3 courses.
Use the interactive map at the end of this post to find the way to your next round.
High-end Premier Courses
We-Ko-Pa Desert Golf Experience
The We-Ko-Pa Golf Club is home to two of the foremost courses in the southwestern U.S., possibly the country as well. The club has received accolades from numerous publications, including GolfWeek, USA Today, and Links Magazine, and it provides a game play experience like none other. In fact, the club's Cholla Course was named one of the 10 best new public courses worldwide by Sports Illustrated in 2001.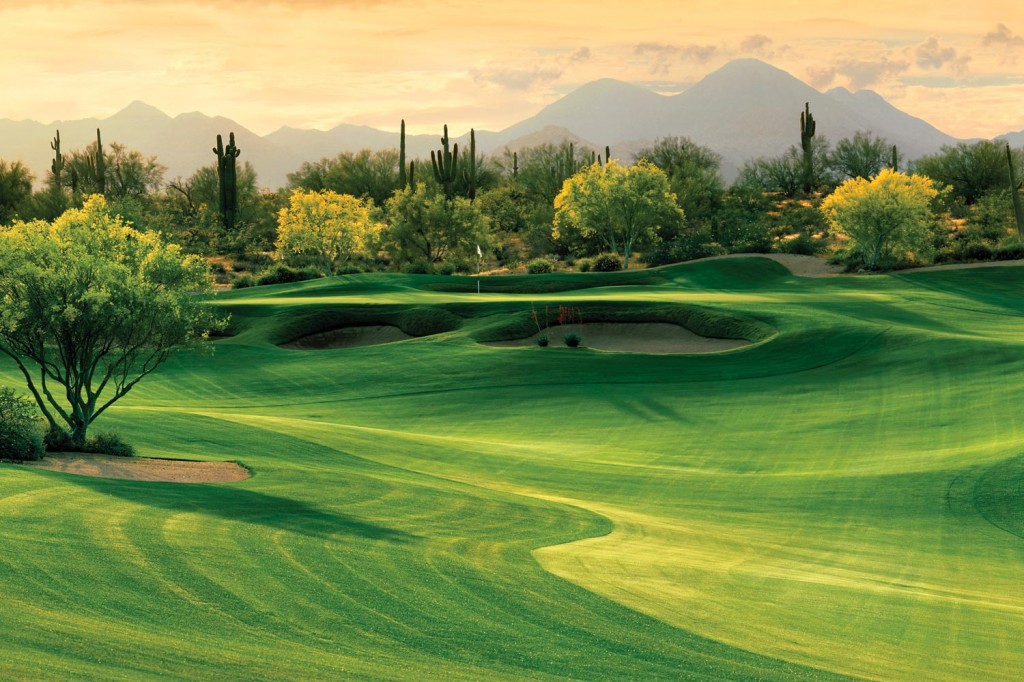 Secluded in the desert landscape with no surrounding developments whatsoever, either of We-Ko-Pa's courses are sure to offer a once-in-a-lifetime experience. If you want to enjoy the absolute best golfing that Phoenix has to offer, We-Ko-Pa is the place to be.
Raven Golf Club
Throughout the Phoenix area you'll find courses that embrace the desert atmosphere whole heartedly. That's where the Raven Golf Club breaks away from the pack.
This non-traditional course was constructed in the mid 90's by moving 700,000 cubic feet of earth and importing thousands of pine trees to the course property. The result is a retreat from the arid and dry desert-based courses that are so prevalent in the area.
Come find out why the Phoenix New Times named Raven as the #1 high-end course in Arizona. You won't be sorry.
Exceptional Courses With Affordable Rates
Depending on your tax bracket, you might be feeling a little sticker shock after seeing the rates of Phoenix's higher end clubs. Of course, these courses offer some of the best golfing in the country, and they certainly have their place. However, there are other, more affordable options in Phoenix that can give the big guys a run for their money. And with twilight rates, you can get in a round on these courses for practically nothing.
Coyote Lakes Golf Club
Coyote Lakes Golf Club is the best choice on the list for a fun, carefree round. The course runs a little on the shorter side at 6,213 yards, but for most players it has the perfect balance of challenge and enjoyment.
Learn more about the Coyote Lakes course here.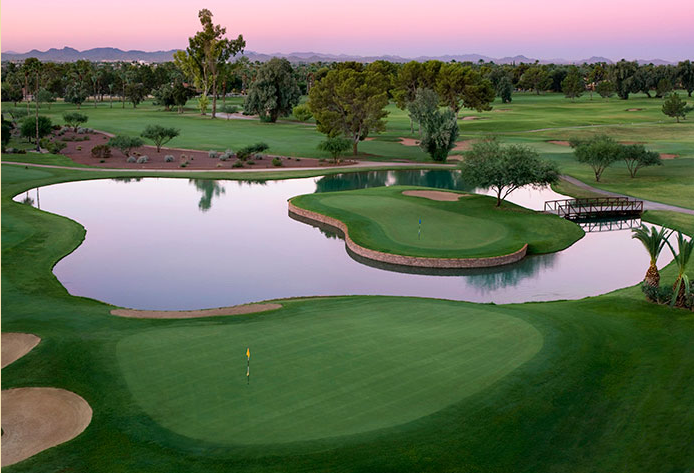 Phoenix's Wigwam Resort houses three fantastic courses, but the Gold Course gives players an exceptional bang for their buck. The par 72 course plays at a little over 7,400 yards, and it was designed by master course architect Robert Trent Jones Sr. The courses inclusion of natural terrain in conjunction with its sprawling length make it a challenge well worth taking on.
Executive, Short, and Par-3 Courses
Who says you have to go all out to have a good time? There's no reason why you can't enjoy yourself on one of Phoenix's great short courses instead of dedicating the time and money to hit one of the bigger clubs. Check out these two courses if you're looking for an abbreviated round.
The First Tee of Phoenix
The First Tee is a non-profit organization committed to providing life lessons and development of character to children and young people through the game of golf. The organization has several locations across the country, but its course at South Mountain in Phoenix is a real local favorite.
The course was designed by renowned designer Tom Fazio, and it consists of nine par-3 holes, each between 40 and 110 yards. The course is open to the public, and it's great for practicing your short game or playing with the kids. Plus, every round you play is supporting a fantastic cause.
Augusta Ranch Golf Club
Not to be confused with the Augusta that hosted the Masters in 2013, the Augusta Ranch Golf Club is still considered one of the best short courses in Arizona.
The Augusta Ranch course comes in at 18 holes with a total par of 61, so it's perfect for a brief morning or late afternoon game; players usually make it through the course in under three hours.
Plus, the course is just a short trip from downtown Phoenix, Scottsdale, Mesa, Gilbert, Tempe, and Chandler. Even better, it seems to always be in immaculate condition. And if you're not sold yet, the fact that you can usually play a round for under $30 is sure to win you over.
What are your favorite golf courses and clubs in Phoenix? Have you visited any of the courses on our list? If so, drop us a comment and let us know how you liked it!

Photo credits:
3. The Wigwam